Sustainable hotel operations
Scandic aims to be a leader in sustainable hotel operations by investing continually in improvements and sustainable solutions and by engaging suppliers and property owners.
For Scandic, in the future, climate change could lead to increased energy costs, taxes on emissions, new legislation, water restrictions, changes in customer behavior and negative impacts on suppliers.
Scandic's long-term ambition is to be fossil-free. Scandic aims to halve its carbon dioxide emissions per square meter by 2030. We can influence emissions by increasing awareness and changing behavior among team members, guests, partners and property owners.
Our program for efficient hotel operations also addresses single-use disposable items, chemicals, water use, recycling and waste management, all of which are being adapted to the Nordic Swan Ecolabel's revised criteria from January 2022.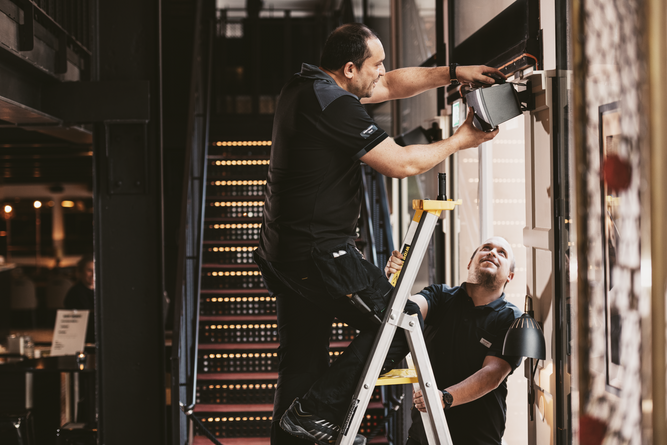 Emissions
When it comes to Scope 1 and 2 emissions, that is, emissions from the electricity, district heating, cooling, gas and oil that Scandic uses, we are very close to becoming fossil-free. This is because we buy 100 percent renewable electricity and most of our district heating suppliers in the Nordic countries are less dependent on fossil energy sources. We also minimize energy use through operational optimization and energy-efficient installations such as LED and motion-controlled lighting. In many rooms, for example, the electricity is activated when guests put their key cards in the key card holder.
Most of Scandic's emissions are in Scope 3, that is, upstream at suppliers and downstream on the part of customers. This is why we've drawn up a plan to reduce fossil energy and carbon dioxide emissions at our suppliers. The plan extends to 2030 and aims to gradually tighten requirements for all partners.
Chemicals
To achieve our goal of using 100 percent ecolabeled chemicals for cleaning, laundry and washing dishes, we need to encourage hotels to always buy the right products. Ideally, we would like to have an automated system to ensure this, but this is not feasible at the moment. Instead, we communicate detailed information across the company and hold training courses.
Water
Scandic's ambition is to further reduce its water use. We have already come a long way by installing water-efficient fittings and toilets. In the near future, there is great potential for changing the behaviour of our team members and guests. For example, many hotels have stickers in bathrooms to remind people to use less water.
Recycling and waste
Our long-term ambition is that spending the night at Scandic should have a lower environmental impact than staying at home. Reducing unsorted waste is an important tool along the way, both for environmental and financial reasons. Guests and team members also need to be given more opportunities to sort waste. We also see a trend where Scandic will have to pay less for handling sorted waste or even be paid. This is a welcome development, not least since it will benefit our efforts to reduce waste.
Property
Scandic does not own its properties but rents premises from property owners. Along with sustainability initiatives, long-term relationships and agreements with professional property owners and developers are fundamental to Scandic's operations. Scandic has achieved much through its own initiatives, but can achieve even more by collaborating with far-sighted property owners.
Next steps
During 2022 and 2023, all of Scandic's approximately 200 Nordic Swan Ecolabeled hotels will be recertified according to the new criteria. Together with our suppliers and property owners, we will also start working to certify hotels that have not been certified earlier. Finally, we will incorporate a more pronounced sustainability approach in Scandic's property strategy.