Meet Scandic's CEO
With a burning passion for the global hospitality industry, Jens Mathiesen leads Scandinavia's largest hotel company, Scandic Hotels. Scandic aims to be a world-class Nordic hotel company. And according to Jens, it's not about five stars, red carpets or number of hotels – it's about delivering a flawless experience every day, both in the spotlight and behind the scenes, for Scandic's guests, customers, team members and owners.
Jens Mathiesen is a familiar face at Scandic, not just in the office but also at the company's hotels. Jens started working at Scandic in 2008 as country head for Denmark. After almost 11 years, he was offered the chance to take over as new President & CEO of Scandic Hotels, a role he gladly accepted and started in early January 2019.
Jens' career could equally have followed another path. Growing up in the Amager district of Copenhagen, Jens was a promising football player with dreams of a professional career. But other things sparked his interest and ultimately, the business world took priority over his athletic pursuits.
"I shifted my focus from football to studying and then trained as a shipping broker at Transoscean Shipping in Denmark. My years on the field, however, taught me a lot about leadership. In fact, the most important lesson I learned that applies in both business and football is that when I enter the field, I do it to win," he explains.
Several years have passed since Jens took over as CEO. During his time, he has experienced both the company's best and worst quarters ever as he navigated Scandic through the Covid-19 pandemic together with his Scandic colleagues. Since then, Scandic has grown from about 10,000 team members in March 2020 to more than 18,600 today. And the company is operating more efficiently than ever. Jens describes himself as a forward-leaning leader who places great importance on corporate culture and believes in fostering an open environment.
What is important to you as a leader?
For me, the key has been never to compromise on my core values. When I lead projects, teams or an organization, it's critical for me to be a team player who creates clarity and transparency and always aims to achieve the best results.
It is also crucial to be inclusive as a leader. From an early age, my parents included me and my siblings in decisions made at home, big or small. This allowed me to be part of and influence the outcome of many situations. It also became an important element of my leadership, shaping me in everything from how my wife and I raised our own family to the way I strive to lead inclusively at Scandic.
What initially attracted you to leadership positions?
Already at school and during football practice, I was drawn to taking responsibility and standing up for my classmates or the team, especially when things didn't go as planned. When you can't achieve your goals according to your strategy, you need to take a step back and analyze what went wrong to see what may need adjusting or whether the playing field should be redrawn. Along the way, taking responsibility and being involved in a process that helped guide my classmates and teammates to better results taught me the importance of good leadership.
You often emphasize having a strong corporate culture with clear values. Why is this so important?
A strong corporate culture is essential for Scandic. This has been at our core since 1969 when we opened the first Esso motor hotel in Laxå, Sweden. And we will continue to maintain the strong corporate culture we have in the years to come. At Scandic, we have more than 18,600 decision-makers who embody our values and apply them in all relationships and decisions. We create a better Scandic when we work together, and I have great confidence in our team members and the decisions they make every day.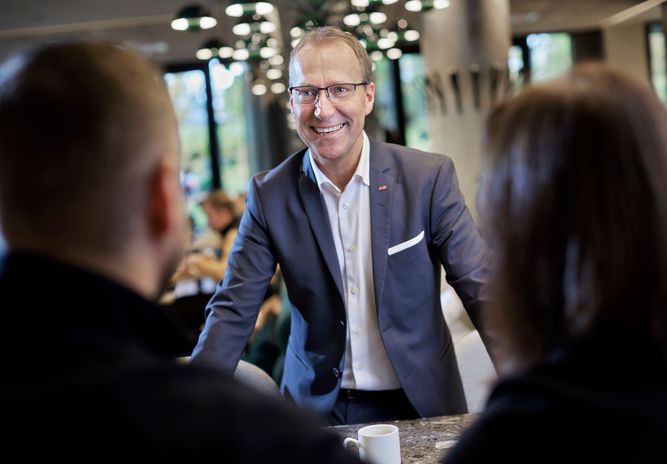 Do you have high expectations for yourself and others?
I have extremely high expectations for myself and I think it's important to know your own strengths and weaknesses. I have a lot of energy and I enjoy working, but at the same time, I think I set the bar high in a good way. I think that you know yourself best and develop your strengths – and improve weaknesses – with experience. For example, I tend to have too little patience to listen to the end when something is already clear to me. But I'm aware of this. For me, it's important to create a transparent climate where we're aware of each other's differences, where we can set high but fair expectations and discuss when our opinions differ. This is how we can achieve great things at Scandic.
You've been working at Scandic since 2008. How has the company evolved since then?
One of the most important aspects of Scandic's development is that we've never compromised on sustainability. We introduced our first sustainability initiatives in 1993. Since then, we've been setting the sustainability agenda in the hospitality industry. At the moment, we're well on our way to recertifying our hotels according to the Nordic Swan Ecolabel's new stricter requirements. We've also implemented innovative solutions to reduce food waste and water and energy consumption. Most importantly, we always involve team members in our sustainability program. We all have a responsibility toward the planet, and we take this very seriously.
When it comes to how the company has developed, it's been like night and day. Scandic has gone from being a Scandinavian hotel operator to a Northern European hotel company, growing from around 130 hotels to more than 270. We've established ourselves in Germany and Poland and made several major acquisitions, including Rica in Norway, which contributed 72 hotels, and Restel in Finland, which increased our hotels in Finland by 43. Our ownership structure has changed over the years, from being publicly listed to privately owned and then back to being listed, which I think is the right fit for Scandic. In the past eight years, we've become somewhat of a popular stock. I think this is testament to the fact that people want to join us on our journey and be involved in developing the company along with our fantastic employees.
Is there anything in the hospitality industry that you're particularly passionate about?
The hospitality industry runs on passion. And when you work in the world's best industry, you need to be enthusiastic about creating unique experiences that exceed guests' and visitors' expectations. For me, it's about understanding their needs and desires as well as staying on top of trends and research that Scandic can tap into so we create incentives, products and experiences that meet guests' needs today, tomorrow and in the future. I want Scandic to continue to be a leader in the Nordics and Northern Europe in these areas, just as we are in sustainability. This creates excellent opportunities to develop Scandic and our offering.
How will Scandic evolve from being a Nordic to a European hotel company?
Scandic has much to gain from the Nordic region, where one of the strongest foundations is our strong work ethic and corporate culture. In the Nordics, we operate mainly based on the principle of "freedom with responsibility" and in our organization, individual team members have the mandate to make decisions. In other words, decisions aren't made by just a few people at the top. That makes us unique.
We must also continue to develop the growing leisure segment, identify destinations that will attract future travelers, ensure a seamless digital experience and be even more explicit in communicating our brand promise. We have all the prerequisites to succeed and everything it takes. Ultimately, it's about prioritizing the right things and being patient.
What's so great about working at Scandic? And what three tips would you give someone who wants to work for us?
Besides the chance to work for the largest hotel company in the Nordic countries that offers international career opportunities and the world's best workplace, there are a few characteristics our team members share:
Having a desire to create fantastic experiences for people
Respecting others and being open and receptive
Being a team player – teamwork is the foundation of everything we do
If these cornerstones align with you, then you're the right person for Scandic. And Scandic is the right fit for you.
Above all, it's a good idea to be familiar with Scandic's values: Be Caring, Be You, Be a Pro and Be Bold. These are fundamental to how we work and act in all situations.
As a Dane who grew up in bike-friendly Copenhagen, where nine out of 10 people own a bike in a country where seven out of 10 own a bike and collectively cycle 8 million kilometers per day, the burning question is, do you cycle to work?
I guess with all this on the table, it would be strange to say no. I have a bike I use when I'm in Copenhagen, but I usually walk to the office in Stockholm. That said, in the spring and summer, I often borrow one of our Scandic bikes to get around the city. So you could say I cycle to work.