Snapshot from the life of a General Manager
Carina Antic is the General Manager of Scandic München Macherei in Germany. She started working at Scandic in 2018 and has a long career and legacy within the hospitality industry.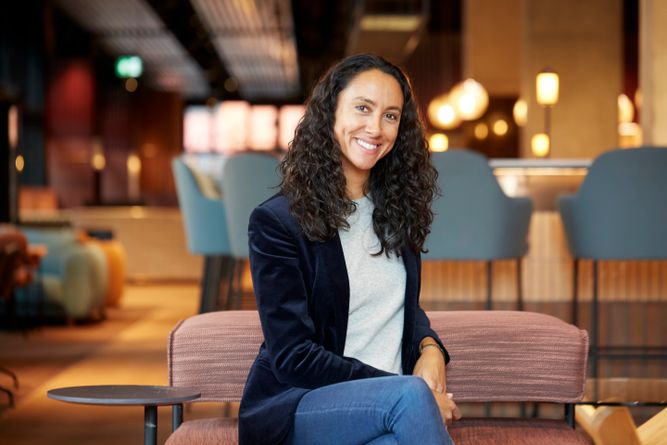 As General Manager at Scandic, what do you do all day?
The heart of our hotel is the restaurant and bar area, which is also where the hotel's main entrance is. My days always begin here with greeting guests, ensuring our breakfast buffet looks inviting and checking in with my fantastic team. My role as General Manger is also a strategic one where I strive every day to deliver on our business plan to make sure we're aligned with Scandic's overall strategy.
Since we opened in October 2022, I keep a close eye on pickup figures, RevPAR and overall revenue. Every day brings new opportunities and as a new hotel, it's vital to build a strong team where people can share their ideas and work together to meet challenges head on.
Scandic München Macherei is our first hotel in the city. How has it been going since you opened?
At Scandic München Macherei, we're both proud and delighted to introduce Scandic to domestic and international guests. And we've received extremely positive feedback, particularly for our high level of service and friendliness, which makes us very proud.
It was busy from the start with all the fairs and events going on in October and November. I can also say that guests really appreciate our beautiful shared spaces and the Zieglerei restaurant which has become popular among guests and locals alike.
Scandic München Macherei is part of our strategy to expand in Germany's largest cities. Did business and leisure travelers return to our German hotels in the fall?
Yes, they did! At Scandic München Macherei, we have a great mix of business and leisure travelers with business guests staying mainly on weekdays. Come Thursday, we welcome a lot of domestic and international leisure travelers wanting to explore Munich.
What qualities do you value the most in those working for you?
– I like working with people who have a positive outlook and who see opportunities and challenges rather than problems. It's a bit of a cliché, but a crucial quality nevertheless. And of course, in this industry it's very important that you're a 'people person'.