From housekeeping to sustainability analyst
Sunita KC began her Scandic career at Scandic Foresta in Sweden, during 2009. With a background within environmental and sustainable infrastructure, Sunita climbed the ranks and now works as a Sustainability Analyst for Scandic Hotels Group.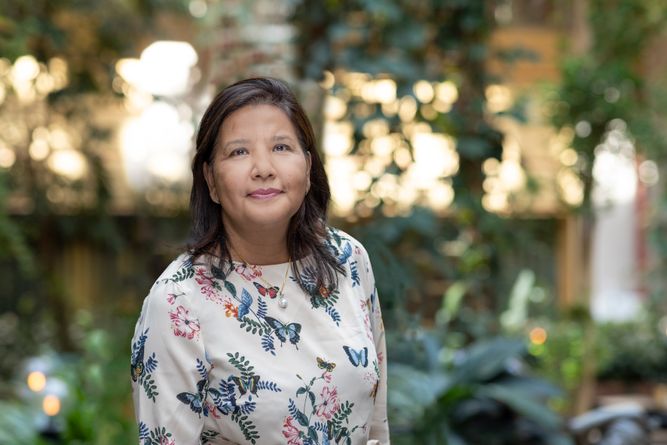 Tell us about your career at Scandic so far
I started my journey in 2009 as housekeeping manager at Scandic Foresta. With a background in environmental and sustainable infrastructure, I could see opportunities to make a difference in many areas, both environmentally and financially – everything from reducing food waste and chemicals to sorting waste properly. I put my heart and soul into this position and never stopped since I believe every step counts. We are all responsible for creating a more sustainable tomorrow.
What do you do now?
After graduating from the Talent@Scandic program in 2016, a new door opened. I started working as Sustainability Coordinator at Scandic's Group Support Office where I helped produce environmental reports.
Today, I'm a sustainability analyst focused on helping Scandic's sustainability unit set targets, assisting and collaborating with key people and stakeholders to meet targets and supporting the company's environmental reporting, certifications and initiatives like our partnership with the Nordic Swan Ecolabel. I also ensure we have qualitative environmental data on all our hotels.
Why is sustainability such an important area of focus for Scandic?
Hospitality accounts for about 1 percent of global CO2e emissions. For Scandic, as a pioneer within sustainability, it's obvious that we want to play our part and inspire others by running a sustainable business that's good for both the environment and for us. We want guests to enjoy a good night's sleep with a good conscience, and we want team members to be proud of us. This is why we need to work closely with our suppliers, partners, communities and other key players in our journey toward more sustainable operations.
Since Scandic's hotels are certified by the Nordic Swan Ecolabel, we started phasing out single-use items in as early as 1995. We're also continuing to increase our share of organic food, using 90 percent ecolabeled chemicals for cleaning and installing smart and energy efficient appliances that reduce our water and energy consumption significantly. Not only that, we're also making great strides in how we manage waste.
What's on Scandic's sustainability agenda for 2023?
In 2023, we'll focus on various activities on our journey to reach our sustainability targets and within our key areas EAT, MEET and SLEEP.
This includes finalizing our climate strategy and setting an action plan to achieve it, ensuring all hotels are certified by the Nordic Swan Ecolabel and supporting our F&B unit in reaching our goal to serve 60 percent plant-based dishes by 2025.
Anything else you'd like to share?
Yes, I have a fun fact. In 2010, when it was more common to throw away food waste together with household waste, I was involved in starting a project with my colleagues at Scandic Foresta to separate food waste to use as compost, helping us reduce costs substantially. This is now the standard at Scandic. This is why it makes me extremely happy to know that one of Scandic's sustainability targets is to reduce food waste by 25 percent by 2025.