Food waste policy
This policy was adopted by Scandic's Sustainability Director together with the Food & Beverage Directors with the purpose of reducing food waste. The Sustainability Director is the owner of this policy. Each country's Food & Beverage Director or equivalent has the operational responsibility for implementing the policy.
Background
Food waste is one of the largest environmental problems that we have globally. It's also an unnecessary cost. Food waste refers to the decrease in the quantity or quality of food resulting from decisions and actions made by both ourselves at Scandic and our guests.
Food waste has long been recognized as a global issue. Food is wasted throughout the value chain: at farms, in manufacturing processes, in cooking processes and by consumers leaving it on their plates. Food production needs a huge amount of resources (such as land, water and fertilizer) – if it's not eaten then all those resources have been wasted. Hence, less food loss and waste would lead to more efficient land use and better water resource management with positive impacts on climate change and livelihoods.
The private sector plays a key role in achieving the United Nations Sustainable Development Goals (SDGs) and companies are increasingly aligning their corporate strategies to these goals. Specifically, goal 12.3 to reduce food waste by 50% by 2030 and goal 12.5 to substantially reduce waste generation through prevention, reduction, recycling, and reuse.
Food & beverage waste pyramid
The food and beverage material hierarchy should be followed as much as economically feasible.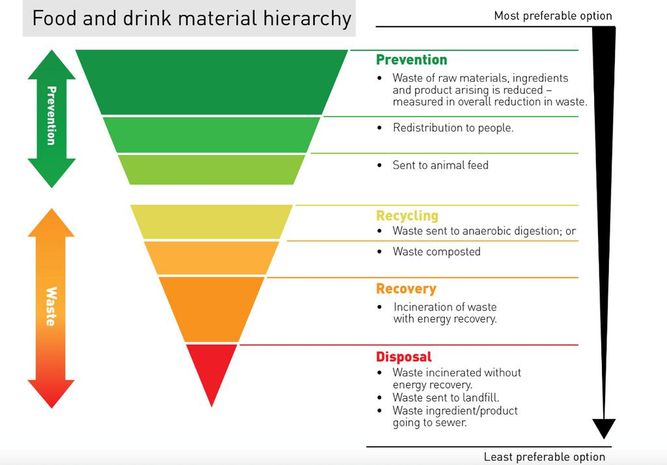 Food waste prevention, reduction, recycling and disposal
Food waste prevention, reduction, recycling and disposal should be the following:
Planning
Purchasing routines
Menu planning
Production planning
Routines for right portions
Storage routines
Use of recipes
Utilize food not used in other recipes
Follow up, communication and education
Routines on following up on buffets
Reporting on costs
Communications with guests
Internal education/training on costs
Corrective measures
Routines for leftovers for internal use
Routines on waste sorting and feedback on success
Training on sorting of waste and the environmental effects
Routines on excess food distribution
Exactly how above items are implemented is up to each country and hotel. But there should be guidelines to detail the procedures around this work in order to make sure that everyone know how to manage.
Equipment
All hotels should have at least one scale for food waste measurements.
Never waste items policy
We should have a "never waste list". Yearly we will revisit the list of never-waste-items and see if we can add items.
Cost for food waste
The total food waste cost is estimated to around Euro 5 per Kilogram.

Measures & KPI's
We shall measure total bio-waste and breakfast waste. The KPI to be used are:
Eatable Food waste Total and Food waste Breakfast weight (in Kg/)/GN (Guest Night)
Eatable Food waste Total costs(EUR) per Guest Nights (GN)
The numbers should be compared with reliable data from 2019 (2022 for Sweden).
When calculating the eatable food waste, the total bio-waste will be multiplied with 0,61.
This information should be entered once a month in Navigator which is the primary system for environmental data. The GM is responsible for the numbers and them being entered into the system. The task of actually entering the numbers into Navigator can be delegated to Head Chef or other relevant person.
Disposal of food waste
Everything goes into one disposal bin.

External reporting
Food waste measurements will be part of our external Sustainability reporting towards shareholders, loan givers and other stakeholders. It's therefor of utmost importance to make sure that we have a well-functioning data reporting. This data can also be audited in the future, hence the data need to be traceable and auditable.
Follow up
At district meetings, cost of food waste should be followed up and benchmarked (making a difference between M&E-hotels and B&B-hotels). Follow up on country level should also be an item twice per year at CMT-meetings.
Education
Every team member who handles food in their daily work should get an introduction course in how Scandic works to reduce food waste and should be familiar with the content of this policy.
Nordic Swan Ecolabel
On the link below, you will find the food waste criteria by the Nordic Swan Ecolabel that Scandic needs to comply with.
Last approved: 2022-10-26
Open PDF version