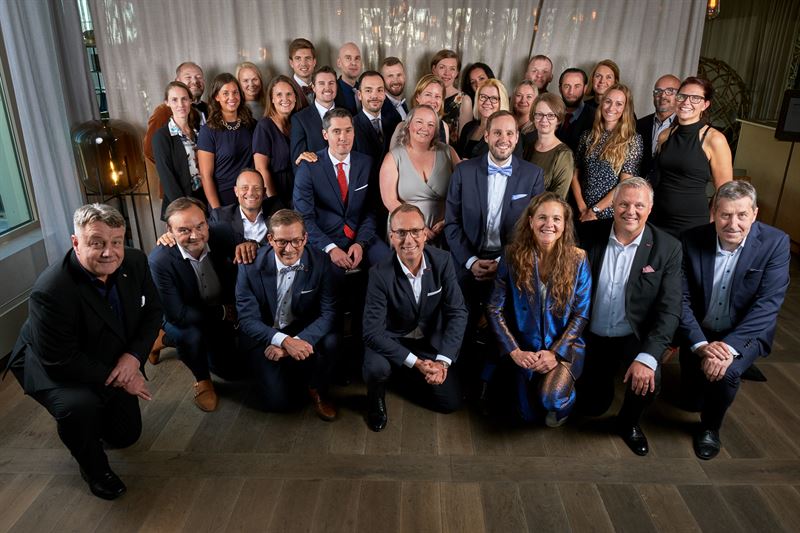 Scandic continues to empower the leaders of tomorrow
Press release | 16 Sep, 2021 | 09:00
For the past 20 years, Scandic has been training future leaders through the company's internal leadership program, Talent@Scandic. This year's 30 talents have now taken the final step toward shouldering leadership roles within the hotel group after a year of intensive organizational and leadership development.
Talent@Scandic is a renowned leadership program in the Nordic hospitality industry. Each year, over a hundred Scandic team members are nominated to the program and only a handful are selected to be trained in leadership, commercial and operational development as well as project management and finance in order to become future leaders within the company. The 30 talents currently work in different positions at Scandic's 270 hotels and support offices in the Nordic region Germany and Poland.
- Before the start of our talent program, the Executive Committee determines focus areas that align with the company's overall strategy. This year's talents have done an impressive job deep diving into areas such as digitalization, commercial optimization and human resources, areas that have become increasingly important in the wake of the pandemic. It has been fantastic to follow their development and I'm convinced that they'll go far within Scandic, says Jens Mathiesen, President & CEO of Scandic Hotels Group.
- Continuing to invest in our internal talent program and training team members to become tomorrow's leaders has been critical during the pandemic. We are a strong and cohesive organization at Scandic and having an additional 30 talents who have now been trained to take on leadership roles is important when we as a company are facing a general lack of skills in our industry, says Maud Samuelsson, responsible for leadership development at Scandic Hotels Group.
2021 marks the 20th anniversary of Talent@Scandic, which shows that the company has empowered the leaders of tomorrow and been a pioneer in leadership development for the past two decades.
For more information, please contact:
Oscar Brehmer, Communication Manager, Scandic Hotels Group
Email:oscar.brehmer@scandichotels.com
Phone: +46 721 709 297

Maud Samuelsson, responsible for leadership development at Scandic Hotels Group
Email: maud.samuelsson@scandichotels.com
Press phone: +46 721 802 153
This year's Talent@Scandic participants
Sweden
Jennifer Janmark, Service Team Manager, Scandic Continental, Stockholm
Ida Söderhäll, Revenue Manager, Support Office, Stockholm
Johanna Wallängen, Inhouse Sales Manager, Scandic Group & Meetings, Stockholm
Emil Spets, Head Chef, Scandic Frimurarehotellet, Linköping
Sabina Stener, Hospitality Manager, Haymarket by Scandic, Stockholm
Johan Svensson, Service Team Manager, Scandic No 25, Gothenburg
Danijela Salov, General Manager, Scandic Borlänge, Borlänge
Josefine Wekell, Content Marketer, Head Office, Stockholm
Norway
Mirsad Pandzic, Team Leader, Regional Sales Office, Oslo
Shiju Nair Parattil, Hotel Manager, Scandic Solli, Oslo
Kristoffer R. Skagen, Hotel Manager, Scandic Helsfyr, Oslo
Magnus Melsom, Hotel Manager, Scandic St. Olavs Plass, Oslo
Simen Anker-Olsen, Head of Leisure Revenue Management, Support Office, Oslo
Rune Aasprong, Hotel Manager, Scandic Victoria, Oslo
Marius Lauritzen, Director of Corporate Sales, Support Office, Oslo
Finland
Katja Hietanen, F&B Manager, Scandic Aulanko, Hämeenlinna
Anne Kuusela, Front Office Manager, Scandic Helsinki Airport, Helsinki
Tanja Lestelin, F&B Manager, Crowne Plaza Helsinki, Helsinki
Joni Koski, F&B Manager, Scandic Vaasa, Vaasa
Juha Nousiainen, Hotel Manager, Scandic Kuopio, Kuopio
Kati Salminen, Front Office Manager, Holiday Inn Helsinki City Centre, Helsinki
Christina Eriksson, Hotel Manager, Crowne Plaza Helsinki, Helsinki
Fredrika Hämelin, Reservations Manager, Hilton Kalastajatorppa, Helsinki

Denmark
Mette Meckleburg von Undall, General Manager, Scandic Aarhus Vest, Aarhus
Nicholine Treldal, General Manager, Scandic Roskilde Park, Roskilde
Maria Louise Martinussen, Front Office & Conference Manager, Scandic Roskilde Park, Roskilde
Andreas Wreth, Front Office Manager, Scandic Copenhagen, Copenhagen
Germany
Konstanze Junkermann, Hotel Manager, Scandic Frankfurt Museumsufer, Frankfurt
Sebastian Gessl, Director of Revenue Management, Support Office, Berlin

Poland
Malgorzata Domanska, General Manager, Scandic Wroclaw, Wroclaw
About Scandic Hotels Group
Scandic is the largest hotel company in the Nordic countries with more than 280 hotels, in operation and under development, in more than 130 destinations. The company is the leader when it comes to integrating sustainability in all operations and its award-winning Design for All concept ensures that Scandic hotels are accessible to everyone. Well loved by guests and employees, the Scandic Friends loyalty program is the largest in the Nordic hotel industry and the company is one of the most attractive employers in the region. Scandic Hotels is listed on Nasdaq Stockholm. www.scandichotelsgroup.com