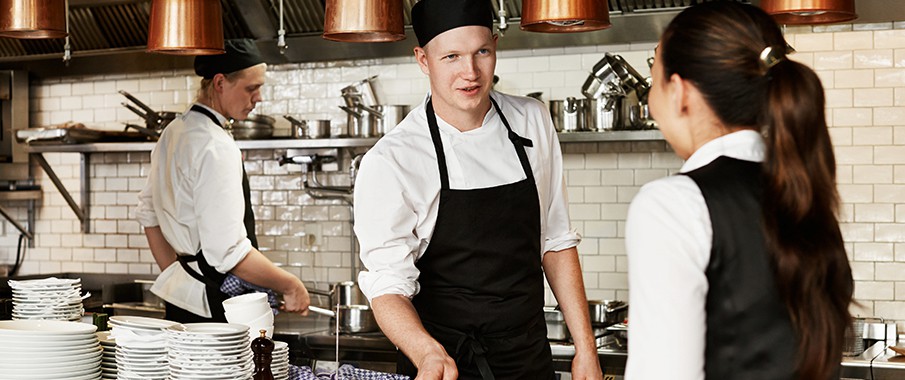 Scandic Business School
Scandic strives to offer the best training and development opportunities in the hotel industry. We firmly believe that education is an important investment for our company as it allows us to ensure sustainable growth and remain competitive in the market.
Scandic Business School offers innovative and inspiring courses and programs that are customized to meet the diverse needs of our employees and our business.
Scandic Business School works closely with groups of employees and local educators within our markets to maximize the effectiveness of our training. Each subject area includes a range of courses to encourage employees at all levels to participate and continue to build on the knowledge they gain.
The training programs at Scandic Business School are designed for classrooms, e-learning and on-the job-training programs. Courses are divided into five areas:
1. Get on Board
An introduction to Scandic for new employees that provides all of the information they need for a smooth start in the company and helps them perform at their best in their new roles.
2. Commercial
Courses to strengthen business and commercial expertise. Areas covered include sales, marketing, revenue management, e-commerce and finance.
3. Functional
Training and practical exercises for all roles at Scandic with the aim of strengthening the Scandic concept. The focus is on improving performance and teaching concepts as well as practices and procedures. Courses include service-specific exercises and overall organizational and system training.
4. Service
Service is the core of Scandic's operations. These courses aim to maintain our high level of service and give employees the tools they need to be involved in further developing Scandic's services and service culture – both internally and externally.
5. Leadership
Courses with a focus on developing the leadership and management skills of employees at various levels in the organization, including leadership programs for young talents and individuals with high potential, as well as experienced leaders.
We also offer talent programs that can lead to hotel management positions. Around 50 percent of key positions at Scandic are filled by internal talents.